Indian Football's one of most Iconic coaches said he objected AIFF's move to introduce foreigners in 1994 but his plea was ignored.
Legendary Indian Coach Bimal Ghosh served 15 years as Air India Head Coach from 1994-2009 in National Football League, which was the top division of Indian Football at that time in India. His contribution to Indian Football at the turn of 21st century is unparalleled.
We had a chance to speak with the legendary man himself in an exclusive interview with us. Bimal Ghosh is always known for his no-nonsense and straightforward style of mindset among the Indian Football fraternity. The discussion moved swiftly ranging from iconic moments in Indian Football to future of the game in India.
Read the complete interview below:
Being a veteran of Indian football for so long, what difference do you see in Indian football in the last 20 years?
In the last 20 years, I have observed the birth of many new academies in the country. I feel nothing has drastically changed and we need to see the standard of football reach a better level in order to compete at a higher standard.
How is your youth setup progressing at the moment and what are your future plans with it?
The youth setup is in good stead. We are doing our best with what we have. The group is average in my high standard of judgment, but there are some boys who are showing high potential. I predict that one or two boys from the team may end up representing the Indian national team one day and may make their step soon of playing for the Under-19 Indian team.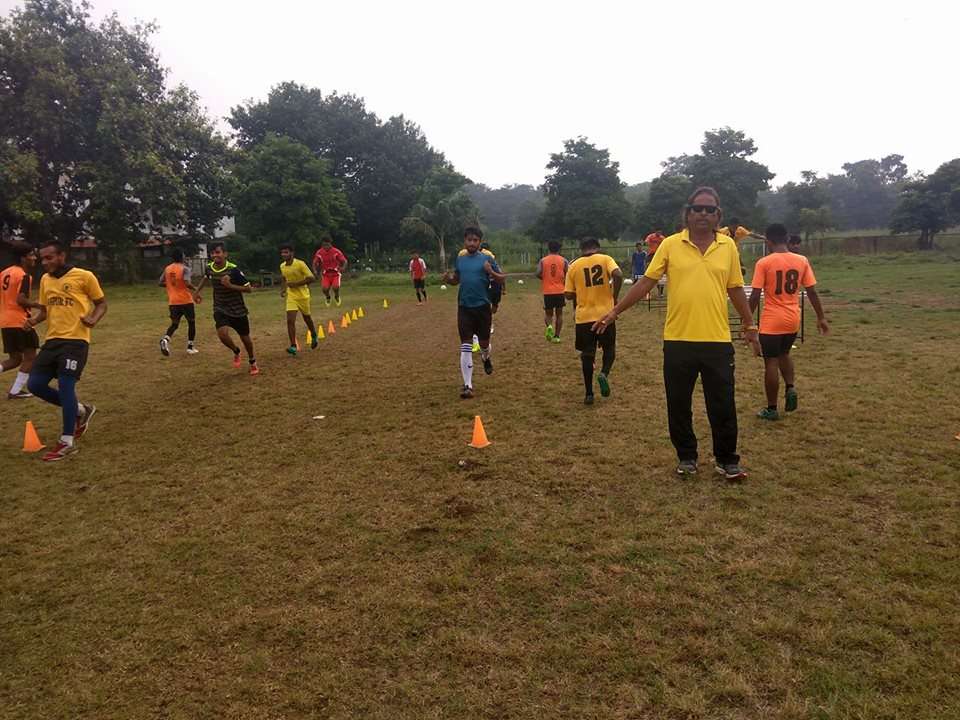 Do you believe the rule of 3+1 of foreign players by the AIFF will improve or decrease the quality of football from next season?
The foreign player system got introduced in Indian football in 1994, where 2 foreigners were permitted to play in the squad in the National Football League, as it was called in those days. I remember taking objection at that time towards this rule, by taking up this matter with Mr. Priyaranjan Das Munshi, who was the AIFF President at that time. I was the only coach who objected and it hence unfortunately fell on deaf ears. I envisaged teams to either play their two foreigners as strikers to score them the goals, or play one foreigner as a striker and one foreigner in central defence. I knew that the teams would get a result through this system, however, my concern was that the importance of Indian strikers would reduce as teams would depend on their foreigners to do them the job. Looking at the scenario now, 26 years later, the evidence is clear that the consequence of this system is that we do not find too many top quality Indian strikers.
Which one particular memory do you cherish and one particular memory do you hate from your experience in football?
As Air India head coach in the NFL (currently the I-League) against JCT Mills in Ludhiana, we were trailing by a goal. The referee's performance in that particular match angered me and got me animated because I got the impression that he was biased towards the home team. At half time, I objected to the Match Commissioner in my imminent style that the way they are officiating this entire match is incorrect and unfair. We then took this bias as a challenge at half time and in the second half, we played with complete passion and ended up scoring 3 goals. This was quite a memorable occasion in the Air India history.
The moment that I do not have fond memories of was a match against Salgaocar SC in Goa, where their player Uday Konar got into a brawl with our goalkeeper Yousuf Ansari and it lead to a pandemonium on the pitch.
Out of your former players, which one turned out to be the best coach, and why?
I cannot commit to taking one out of many good coaches by saying one particular name. One commendable achievement was Khalid Jamil's title winning journey with Aizawl FC. Other former players of mine like Steven Dias, Naushad Moosa, Paresh Shivalkar, Altaf Syed, Anthony Fernandes, Henry Picardo and many more are doing a good job in the coaching profession. I believe that a huge role of a coach should be to groom a player in the best possible way, at a rapid pace. If better players are not developed, then I do not see India participating in the World Cup anytime soon, because there will be a lower quality pool of players for the national team to select from. At Air India, our club's culture was to nurture talented players and transform them from obscure youngsters into established I-League, ISL and national team players.
Do you feel a former football player should be in-charge/President of AIFF, instead of a politician, to effectively run football in India?
One cannot give a justifiable and one size fits all answer to this, because there are occasions when former players do a good job and also some who indulge in biasedness and favouritism. Since politicians have an established standing, they can contribute to Indian football by using their financial resources to develop the game in our country. We had Mr. Priyaranjan Das Munshi as the President of the AIFF and Mr. Praful Patel as the current President, and people in such roles can use their influence effectively.
Do you agree with the Indian national team coach Igor Stimac's position on allowing Persons of Indian Origin (PIO) players to play for the national team?
It is a good thought but the national team staff will need to be very particular and precise with their scouting of the overseas based players, to ensure that they have that level of quality that can make a difference to the India team. I think we can only make a fair judgment if this rule is implemented and we can then gauge their quality. There was an attempt of the same nature made earlier by the former national team coach, Stephen Constantine, but his attempt was unsuccessful. An alternative to this would be to have a major focus on youth development, to groom the resident young Indian players to a level that they can contribute to the same level that we hope a PIO can contribute. Moreover, I would like to see Indian players go abroad to play in foreign leagues, similar to what Gurpreet and Chhetri did in the past. This way, the players will benefit from playing at a higher level in a more advanced football environment and once we have a bunch of Indian players playing at foreign clubs, we may have a better chance of playing in the World Cup soon.
What message do you have for current players and coaches in Indian football?
The performance of coaches and players are interrelated. If coaches do a good job in their role, then that would make players improve. The primary conduct of players should be to respect their coaches, and they need to have a lot of discipline and dedication towards the game at a constant 100% level. Coaches have a duty towards enhancing the abilities of their players, which can only happen if their training sessions are top class. If coaches conduct training sessions for a short period of time, which I have noticed in Mumbai, then the likelihood of players improving and transforming are minimal. Players require a lot of dedicated individual attention from coaches in order to dramatically enhance their skills.
---
Bimal Ghosh has produced and given first team opportunities to a plethora of players in his vast coaching career that it's impossible to write the full list. Some notable names like Steven Dias, Khalid Jamil, Raju Gaikwad, Subhash Singh and Nirmal Chhetri have proven themselves in Indian Football and then there are some young ones like Girik Khosla and Rahul Das who are on their way to make name for themselves. His legacy in Indian Football will always be cherished.